How we missed this exchange of PDA between Ranveer Singh and Deepika Padukone! I mean, all this while we have been only hearing reports of their on and off relationship. That's a different thing that every time there's a breakup rumour, the couple makes sure to step out together, holding hands and let the world know about their relationship status. But not once in the recent times have they gone on records gushing about each other or even tweeting to each other on social media. So it was quite surprising when we found DP commenting on Ranveer's Insta post and the latter sending back some love with an even adorable message. Yes, this happened!
So Ranveer as you all know has been in Cadriff witnessing the legendary Champions League. He has been posting tons of videos, posing with the legends, cheering for Real Madrid and making the most out of this opportunity ever since he's gone there. You know how he is? He doesn't even realise how sometimes he goes overboard with his excitement. One such video had him walking across the prestigious ground like as if he owns it and there…there…DP didn't think twice before calling him a "Clown". She obviously meant it in the cute way but it's very rare you'll find Deepika commenting on Ranveer's post. What's more adorable bit is how Ranveer then couldn't resist from admitting how badly he's missing Deepika at the UCL finals.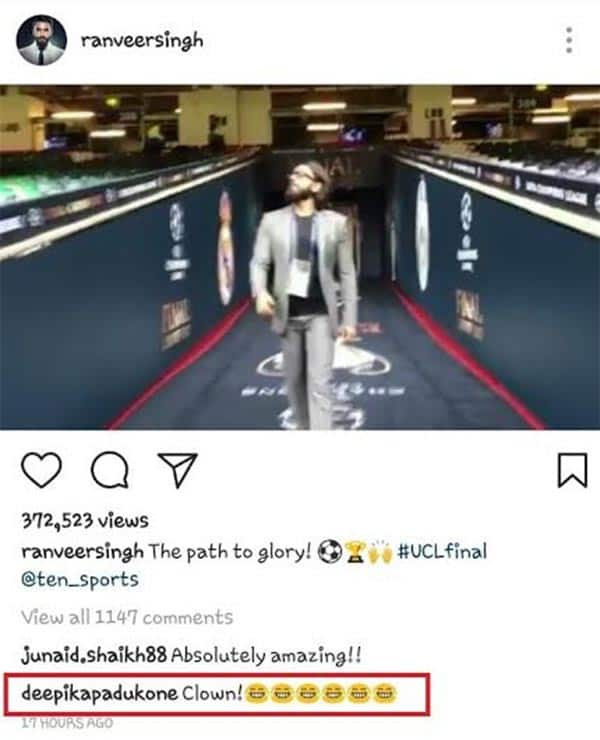 As soon as Deepika posted this picture with the UCL cup wishing luck to the boys; Ranveer jumped to comment, "Missing ya" with a kiss in addition. Aww! Isn't he the cutest? Although Deepika is yet to reply to this message but we are sure she might have blushed a little on reading this. Who wouldn't like a message like this from the love of your life?